Take your contact center to the next level
We develop and implement a solution according to your needs.
We adapt
to your business
Do you put the customer first in everything you do? So do we. Every day, we help companies of all sizes build lasting customer relationships. 
Small companies
Large companies
Small companies
Is it possible to delight customers while keeping costs under control? We make it possible. 
Large companies
Why are we
your #TrustedPartner?
We have earned the trust of large companies in LATAM. Today we list 5 reasons why our clients continue to choose us and why we continue to cultivate long-term relationships.
We focus on our customers' business
We accompany our clients in their operations.
We work with the leading brands in the market
It's time to transform your brand conversations.
More than 23 years transforming conversations
We are partners of recognized world leaders in cloud contact center software and unified communications solutions.
We develop the loyalty and trust of your customers. Turn your customer service into a competitive advantage.
We provide your agents with the tools they need to excel in their work.
We help you sell, service and optimize your communications in one place.
We are with you every step of the way
Our solutions are

designed to help you
Our solutions are designed to help you optimize the way work flows through your organization. We put your contact center at the heart of your business, to help reduce wait times and ensure your customers' experience is exceptional.
No matter what channel your customer uses, with our Contact Center platform you will be able to serve them 24/7.
They offer immediate service at any time of the day. And when built on a solid foundation of knowledge, they can divert traffic away from active agents.
Combine voice bots with the power of live agents to ensure your customers get the right level of service at the right time.
Turn data into valuable business information. Reports are visualized through a graphical user interface, filters, analysis tools to generate reports, as well as pre-designed reports.
Handles all interaction analysis with a single application. Analyze conversations in chat, email, social networks and messaging applications.
Track multichannel and cross-channel activities so you can keep the right agents available.
If you wish to contract e-Contact
, please contact us through your preferred platform
The customer

always comes first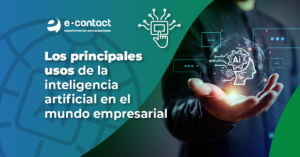 Main uses of artificial intelligence Artificial intelligence (AI) has revolutionized the way we interact with the digital world, and has had an impact on the way we interact with the digital world.
Read more "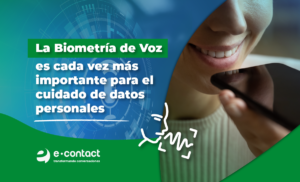 Successful Voice Biometrics event in Chile Last Wednesday, May 3, we developed, together with Nuance, an event to highlight the importance of Voice Biometrics in Chile.
Read more "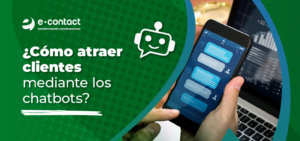 How to attract customers through chatbots? Do you want to improve the user experience in your company and attract new customers? Chatbots can be the answer!
Read more "
We take care of all interactions with your brand across multiple customer service channels, providing you with all the tools to make your customer's journey an exceptional one.